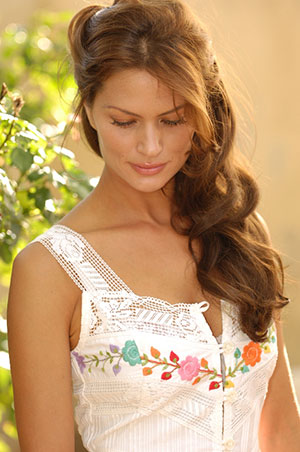 Though you may not know Aponi Kai in person, it is very possible that you have seen her face.
She is the image for Gertrude Zachary Jewelry, displayed on billboards and on the side of buses throughout New Mexico. She has also modeled for Fuller Cosmetics and the Wall Street Journal and has had television spots on E! Entertainment as the face of international spas.
"I routinely model for Cowboys and Indian Magazine, Aspen Magazine, Silver Creations, Vintage Collection Designs and many jewelers in the Southwest."
She has also modeled for clothing lines and done catalog work for various beauty products.
Aponi has worked with national and international agencies. Many are Miami-based, like the Green Agency, but she has also been represented by agents in Mexico, Italy, New York City, Los Angeles, and in New Mexico.