About Aponi Kai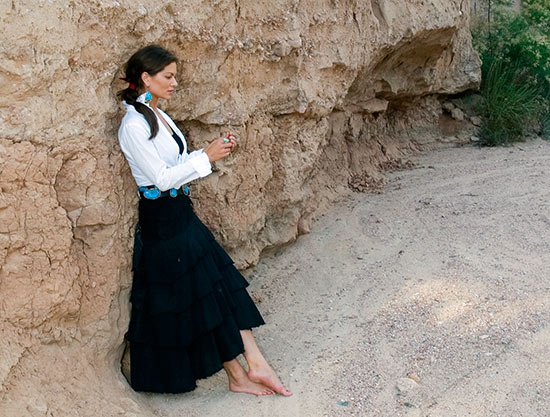 Aponi Kai composes most of her music and lyrics under the moon and stars in far away arroyos, walking with her two malamute wolf mixes, Nico and Nena.
She grew up in a remote mountain cabin in early years and learned to draw inspiration from listening to the river below and observing wild life in her back yard. Poetry, gardening, yoga, ayurvedic medicine, cooking, downhill skiing, horseback riding, reading and studying piano and guitar are among her interests.
She is currently creating a line of handbags that reflect her unique heritage; the 'Aponi Bag' is a handcrafted ceremonial bag with bead work that can be custom ordered.
Although Aponi grew up in the mountains of Colorado and New Mexico, she was educated in Europe and Latin America.
She studied languages at Georgetown University and at La Sapienza University in Rome, and is fluent in Spanish, Italian, English and is proficient in French. She resides in Santa Fe.
Aponi was raised by her mother, an 8th generation Curandera of Spanish and Hopi Indian heritage, and her father, a Ph.D mathematician of Scottish decent.
Aponi has performed for ambassadors, attaches, and dignitaries of Latin America at events and fundraisers at the Kennedy Center, the Organization of American States, the Venezuelan Embassy, the Mexican Cultural Institute, the Colombian Embassy, and at televised events such as 'The Today Show' in New York City and 'Nuestra Belleza' in Mexico City.
She later became the face of Fuller Cosmetics in Mexico during the release of her first album with Prisa Records of Spain.
She performed as back up singer to Gloria Estefan and has worked with legendary producers Bebu Silvetti, Marco Flores and Rodolfo Castillo. Rendezvous Records, Prisa and Muxxic Latina are among the labels she has recorded for.
Hands-on work south of the border also holds an appeal for Aponi. She is director of Dos Manos, a nonprofit organization based in Northern Mexico, founded by Mike Odom.
"Dos Manos has focused on improving education for children, delivering clean water, and supporting sustainable agriculture to indigenous villages in the mountains of rural Chihuahau, Mexico."